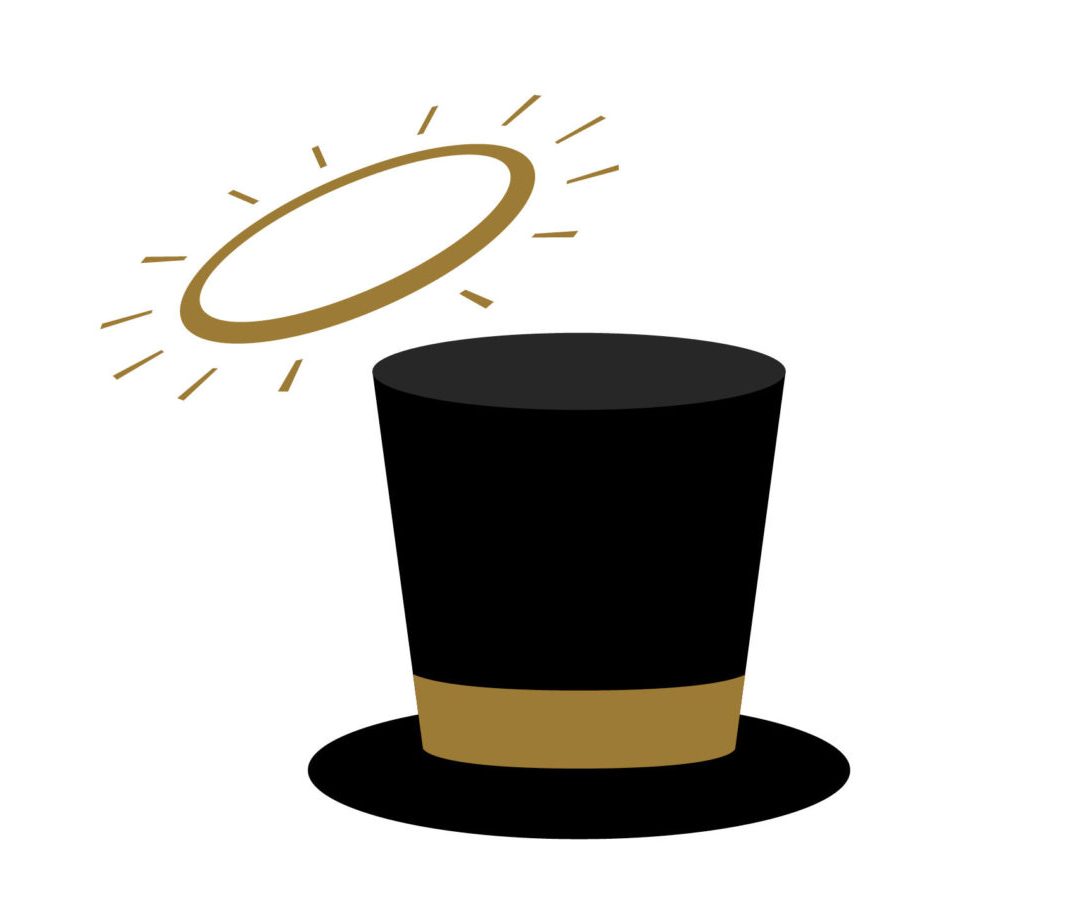 The Pro Humanitate Committee represents staff interests with respect to organizing philanthropic opportunities to facilitate promotion of Pro Humanitate at Wake Forest University. The committee solicits staff input regarding service opportunities and organizes events and activities to create a positive outcome for selected charitable organizations.
---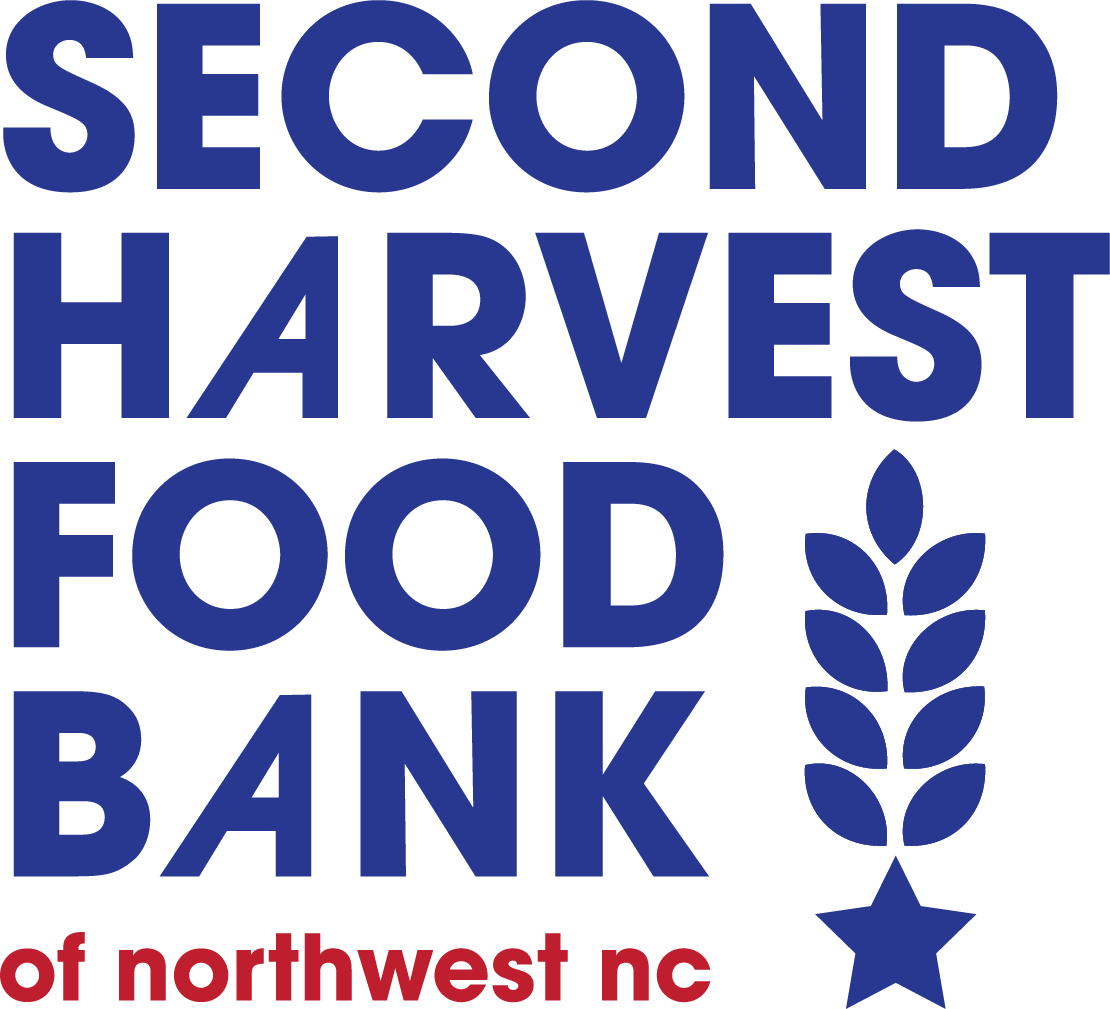 P

lease consider donating to the Staff Advisory Council

 food drive 

in partnership with Second Harvest Food Bank.  The drive 

begins next week, Monday, April 26 and will run until May 21st.  The website link for virtual donations will be open indefinitely, so anyone can make a donation at any time.

Collection boxes will be in place April 26 – May 7

 

for non-perishable drop offs

 if you are on campus.  
Boxes are located in the main entrances of Benson, the Wellness Center and the ZSR Library
In addition, you may be interested in this year's Drive-Thru Empty Bowls event on April 28, 2021, at Bridger.  Meal planning done – have soup that night!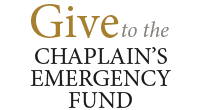 Learn more about the
Chaplain's Emergency Fund 
---
Donate to the 
Wake Forest Crisis Response Fund
To apply for assistance, please contact Human Resources or the
Office of the Chaplain.
---
ONGOING AND FORMER OUTREACH PROJECTS
---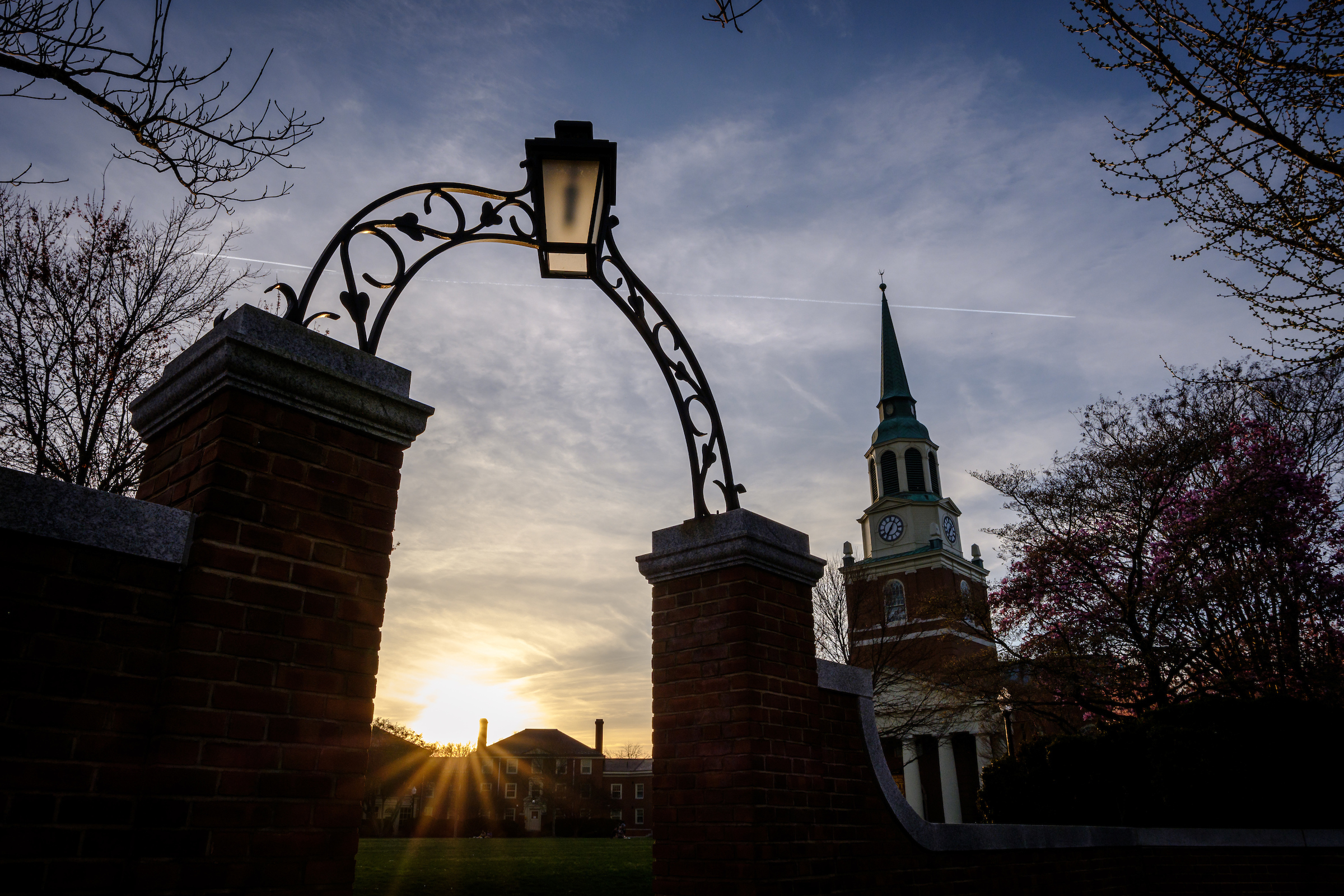 How Can You Help the Campus Community?  
DONATE A GIFT CARD!
Holiday deadline is in November each year
Consider being a team lead for your department
Gift card suggestions are:   Walmart, Food Lion, and Visa
Mail gift cards to the Chaplain's Office, P.O. Box 7204
Contact Peggy Beckman for additional information:  336-758-5210

  The Chaplain's Office accepts gift cards year round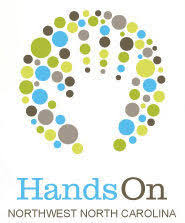 Get Connected Series: Economic Development
February 2020
February 12, 6 – 8 PM, Goodwill Industries (2701 University Parkway) Self Reliance Hall 
Get Connected is a series of networking events where community partners can connect with Wake Forest faculty,  staff, students and the community-at-large. Join the OCCE and discuss how we can make an impact in the area of economic development in Winston-Salem.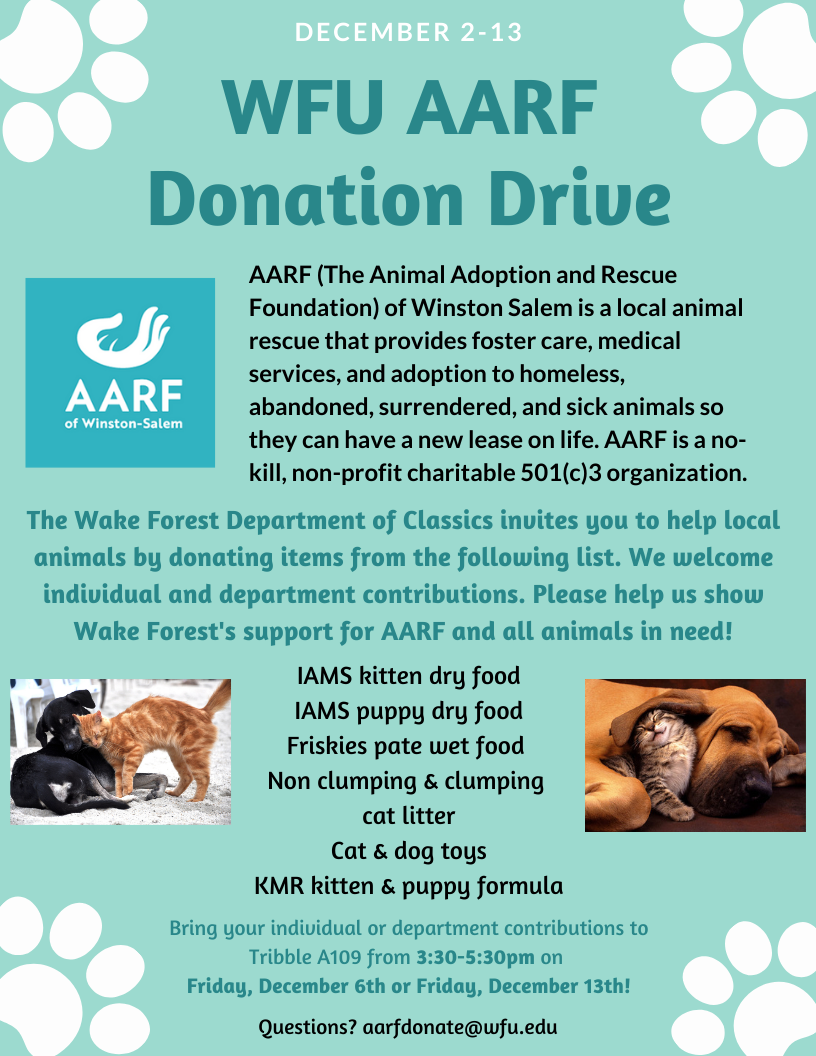 WFU AARF Drive – December 6th and 13th
December 2019
The Wake Forest Department of Classics invites faculty and staff to help local animals this Holiday season by donating items from the list below.
IAMS kitten dry food
IAMS puppy dry food
Friskies pate wet food
Non-clumping & clumping cat litter
Cat & dog toys
KMR kitten & puppy formula
Bring your contributions to Tribble Hall A109 from 3:30 – 5:30 Friday, December 6th or Friday, December 13th. 
Contact aarfdonate@nullwfu.edu with any questions that you have.
A little bit about AARF:
AARF (The Animal Adoption and Rescue Foundation) of Winston Salem is a local animal rescue that provides foster care, medical services, and adoption to homeless, abandoned, surrendered, and sick animals so they can have a new lease on life. AARF is a no-kill, non-profit charitable 501(c)3 organization.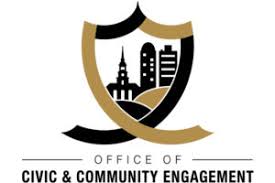 Office of Civic & Community Engagement
November 2019
November Schedule
11/5 Social Justice 101. 5 – 6 pm – ZSR 476
11/6 Preparing for Community Engagement. 4-5:30 pm – Carswell 101
11/8 Lunch and Learn: People's History of Winston Salem. 12 – 1 pm – ZSR 476
11/13 Civic Reflection. 6 – 7 pm – Benson 410
11/19 Organizing, Advocacy, Social Change. 6 – 7 pm – Benson 410
Visit www.communityengagement.wfu.edu for more information.
Get Connected Series
Food and Health
November 20th, 6 – 8 PM, Green Room, Reynolda Hall
Join the Office of Civic & Community Engagement as we discuss how we can impact the health and nutrition of the Winston Salem community.
Get Connected is a series of networking events where community partners can connect with Wake Forest faculty, students, and staff.
2019 TurkeyPalooza – November 17 – 22
November is "Homeless and Hunger Awareness Month," which features TurkeyPalooza!
Make a Difference with TurkeyPalooza
Help Campus Kitchen prepare full scratch-made Thanksgiving meals for its community partners and Samaritan Ministries. As one of the most anticipated events of the year, TurkeyPalooza relies on the support of the entire Wake Forest community to make it a success. Departments and Organizations can donate specific fresh food items, or make a monetary donation.
Baking for Hospice
October 2019
The Kate B. Reynolds Hospice Home is in need of cakes and cookies to serve patients and family members during Tea Time on Cake Friday each week. Donations may be dropped off anytime.
101 Hospice Lane, Winston Salem, NC, 27103.
Please contact Heidi College at HCollege@nullTrellisSupport.org.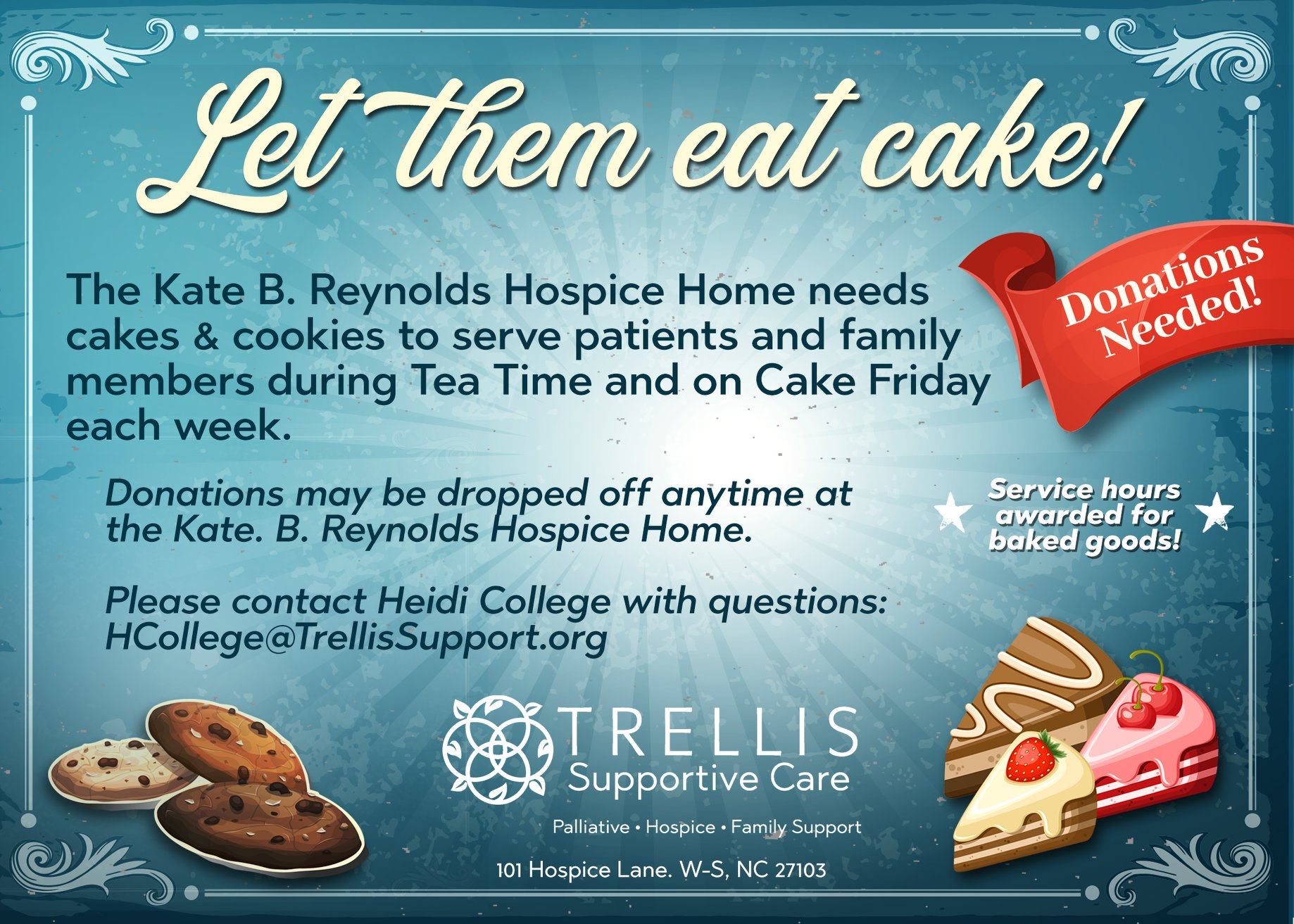 Visit Moji Coffee Downtown
October 2019
"Moji Coffee and More" is a full-service, non-profit coffee shop and art gallery located at 690 Trade Street, in the heart of Winston-Salem's Arts District.  Their mission is to provide meaningful, enriching employment to adults of all ages with Intellectual and Developmental Disabilities (I/DD).  There are currently 31 individuals with "differing abilities" on their team working under 5 well-trained supervisors in support of 7am-7pm, 7 days/week operating hours.
"Moji" is defined as "the jolt of joy you get when you make others happy"!  Get your jolt of joy, bring a friend—or a study group, and hang out as long as you like (free power and speedy WiFi).
www.MojiCoffee.org   Like Us! @mojicoffeeandmore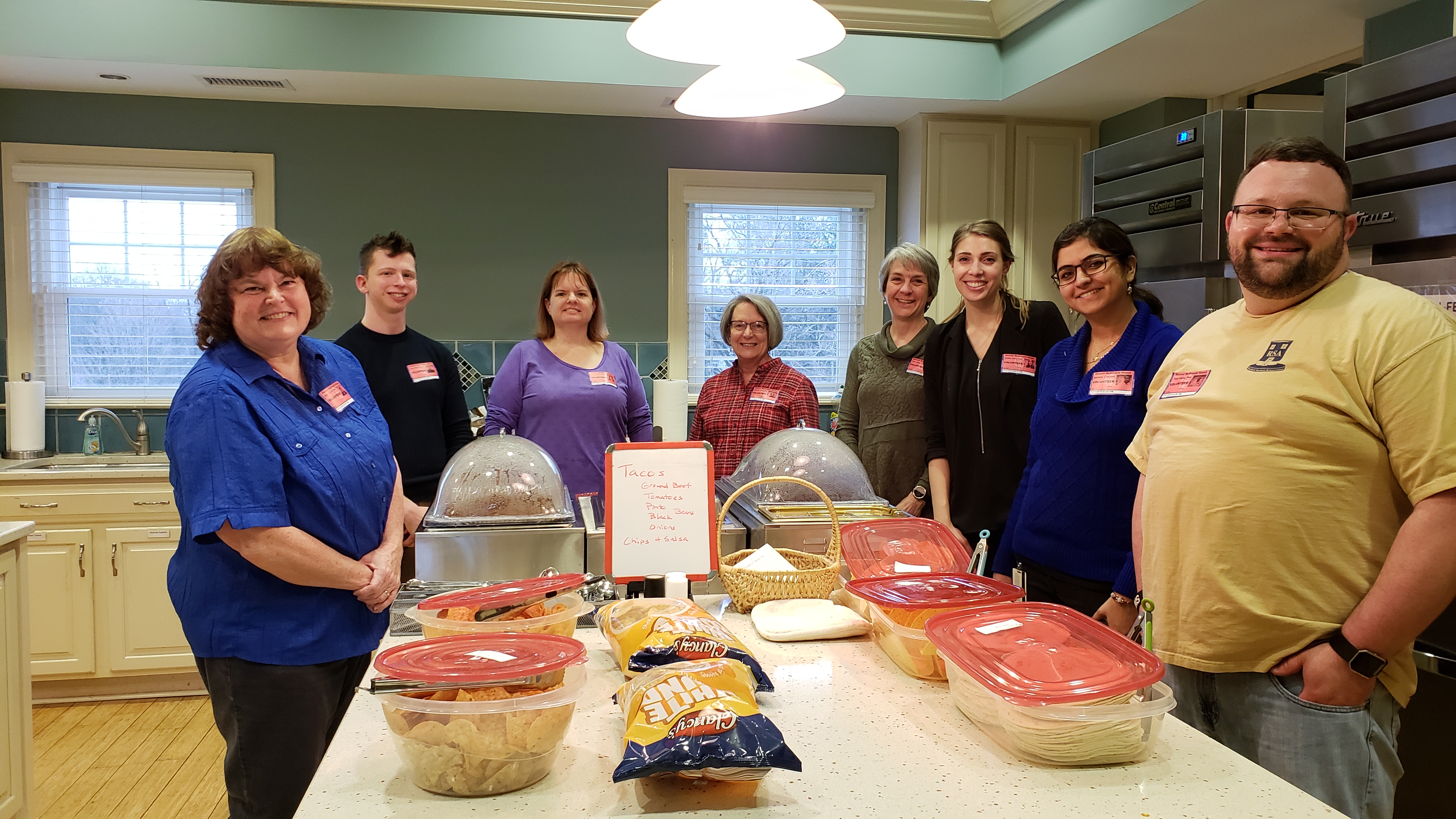 Volunteer with the Ronald McDonald House
January 2019
SAC's Pro Humanitate Committee will be preparing meals for the Ronald McDonald House of Winston-Salem on the third Thursday of every month:
February 21, 2019
March 21, 2019
April 18, 2019
May 16, 2019
Please contact SACphc@nullgg.wfu.edu if you wish to donate or volunteer for our upcoming meals and would like more information.
Wesley Todd, one of our SAC Representatives, who started this initiative reflected on our first meal there. Please take a moment to read Wesley's story:
"When I was first hired in 2014 and became a member of the Wake Forest family, the piece that got me to come to Wake was Pro Humanitate, and that I could be a part of that. During my time here, I have been given great opportunities to serve this university and our local community with Hit the Bricks, Project Pumpkin, Blankets for Bethesda, and Deacs Donate. Last month, The Pro Humanitate Committee, in conjunction with the Staff Advisory Council, began a new service in the spirit of Pro Humanitate. Eight volunteers went to the Ronald McDonald House of Winston-Salem and prepared dinner for those staying in the house. The Ronald McDonald House serves as a home away from home for parents who have children who are receiving long-term treatment at Brenner Children's Hospital, which is part of Wake Forest Baptist Hospital. My seven colleagues and I shared laughter, chopped vegetables, browned beef, scrubbed dishes, and most importantly, fulfilled the mission of our University's motto, For Humanity."
With the jitters and concerns of committing to this service for the first time behind us, we now reach out to you for your support to keep this endeavor sustainable for years to come. The Pro Humanitate Committee has committed to providing this meal to the house every third Thursday of the month. There are two things the committee needs to make this possible: your willingness to volunteer, and money to buy the groceries. Each meal provided costs approximately $200.00, as the meal is intended to feed 40-60 people. Any money that is left over from purchasing the meal goes to the Ronald McDonald House to be used for their greatest need. We are asking that your office (or a combination of offices) volunteer to sponsor a meal. If you cannot commit to providing money toward a meal, please consider volunteering your time to prepare the meal. Volunteers meet at the Ronald McDonald House at 3:00 p.m. on the third Thursday of the month, and can expect to be there until 5:00 p.m.
Should you have any questions about how to donate, want to commit your office to sponsoring a meal, or wish to volunteer, please email the Pro Humanitate Committee at SACphc@nullgg.wfu.edu. Maya Angelou once said that "When we give cheerfully and accept gracefully, everyone is blessed." I ask you to consider the impact that you are able to have on a total stranger, and that we have an amazing opportunity to serve as staff members of Wake Forest University, in the spirit of Pro Humanitate.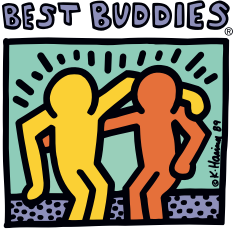 Winston Salem Special Needs
December 2018
Consider serving the local Intellectual and Developmental Disabilities (IDD) community by volunteering with one of the following organizations:
Best Buddies is dedicated to establishing a global volunteer movement that creates opportunities for one-to-one friendships, integrated employment, and leadership development for people with intellectual and developmental disabilities (IDD). This student-led organization, which is part of the nationwide Best Buddies program, connects Wake Forest University students and C. Douglas Carter High School students with a goal of creating an inclusive community.
The Piedmont Down Syndrome Support Network provides support and information to individuals with Down syndrome and their families in the Piedmont area with the aim to support and enrich the lives of children of all ages so they reach their full potential and achieve their dreams.
Special Olympics provides year-round sports training and athletic competition in a variety of Olympic-type sports for children and adults with intellectual disabilities, giving them continuing opportunities to develop physical fitness, demonstrate courage, experience joy and participate in a sharing of gifts, skills and friendship with their families, other Special Olympics athletes and the community.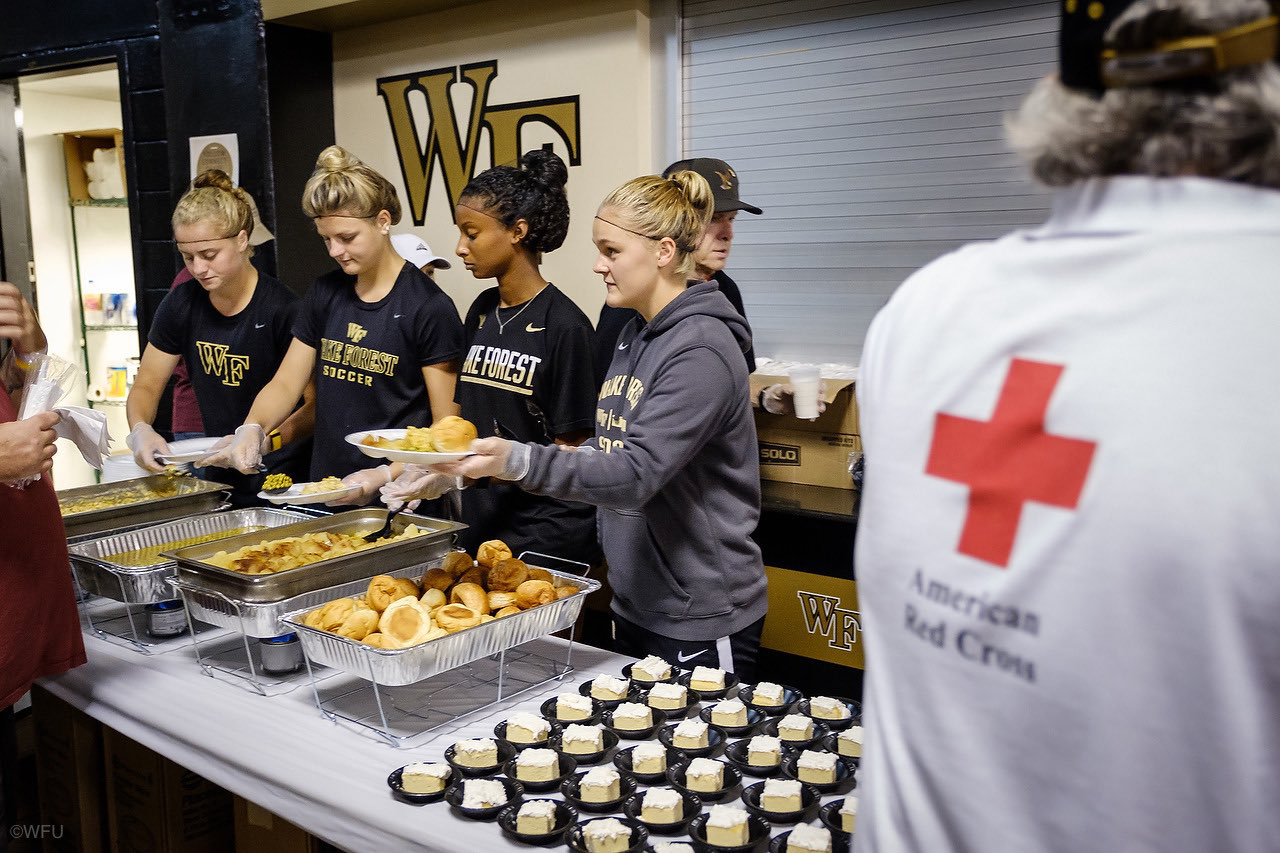 Donations for Hurricane Evacuees in Winston-Salem
October 2018
The LJVM Coliseum is currently housing 325 people, with efforts being led by the American Red Cross, and additional support from local churches and other partners. The evacuees came to Winston-Salem in a variety of ways; by driving themselves, receiving rides from friends, or using public transportation – but many of the families do not have have the funding to return home. If you would like to help these displaced families get home, Love Out Loud is collecting donations to fund the purchase of bus tickets and gas cards to the shelter families. If you would like to donate, please click the Donate button below and select "Disaster Relief" from the dropdown to donate any amount of your choice.
Additionally, if you would like volunteer at this location or others throughout North Carolina, please register as a volunteer with the American Red Cross.
Photo: WFU Women's Soccer team served those taking shelter from Hurricane Florence at LJVM Coliseum. Photo by Ken Bennett / WFU